Best Apps to Download Youtube Videos for Free! – Vidmate Alternatives
YouTube videos are considered as the best source of entrainment there are billions and billions of videos over this video streaming website/ app, A survey once proved that you need eleven thousand years of watch time to watch ever video present on YouTube. We all have our own favorite YouTubers we admire and appreciate their work and content regularly sometimes we just want to  download their videos to watch them whenever we want but all you can do is save it offline on the application which you have to update it every 28 day or 30 days because only an instance of any video gets  is created on your device, It's because the YouTube is very much serious about copyright infringement and  copyright issues.
Copyright strikes can result in account termination or permanent ban hence there is no official application to download YouTube videos from play store but you can always find one on open application market. Vidmate Video Downloader is one such application that can be used to download YouTube videos from the server. Vidmate has some remarkable features but there are other applications which works exactly same but are more useful than Vidmate in some or the other ways so here we are going to discuss best alternatives of Vidmate to download videos online.
Apps like Vidmate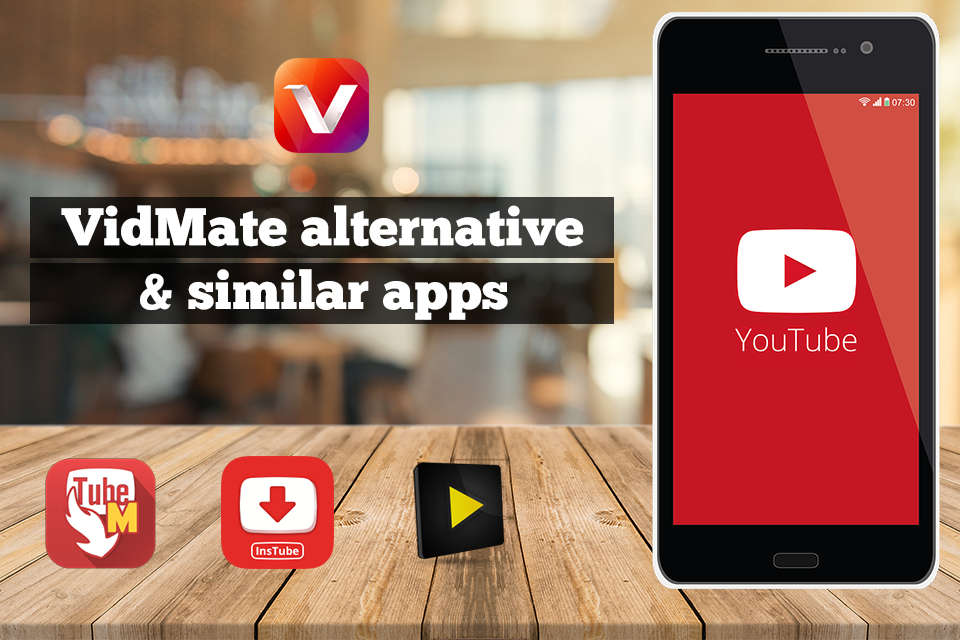 Download Vidmate Here
1.)Tubemate:
Tubemate is an amazing YouTube video downloader along with YouTube tubemate also works fine with applications such as Facebook, Instagram, Dailymotion, Vimeo, Soundcloud, Daily movies, Tumblr, Metacafe etc. Tubemate has an inbuilt web browser which can be used to search different website and later the content of the website can be downloaded. along with videos it can also be used to download songs in mp3 format.
Download Tubemate for your smartphone from here:
https://tubemate-youtube-downloader.en.uptodown.com/android
2.)Newpipe:
The white red UI (user interface ) of YouTube is very appealing, keeping that in mind this application was created it has the same UI as that of YouTube the additional feature is that you can download videos that are present on YouTube on your device reason it is slightly better than Vidmate is that easily operate able since the user is familiar with the UI on the app.
Download Newpipe for your smartphone from here:
https://newpipe.en.uptodown.com/android
3.)Snaptube:
It is another classic video downloading application the functionalities and features of this application are also pretty much same to that of another previously mentioned apps but what makes difference is the listing feature of the app which separates the videos and mp3 files. It has an efficient file organizing feature. This application is best supported by Facebook, Instagram, Vevo, vuclip, SoundCloud etc.
Download Snaptube for your smartphone from here:
https://snaptube.en.uptodown.com/android
4.)Videoder:
It's not just a normal video downloader, It's a dynamic tool to download or stream videos online from YouTube or any other website multiple websites are supported by videoder. The videos opened from the videoder can be shared on different applications without any third party interference. The application is user-friendly since it has night mode which is ideal whenever you are using the application late night or in low light.
Download Videoder for your smartphone from here:
https://videoder.en.uptodown.com/android
5.)KeepVid:
It's an platform independent video downloading software which was initially launched for laptop/desktop after the huge success on the machine level,  The device level variant for the app was launched it has been downloaded by millions of Android users and it is used on daily basis to download videos from YouTube or to extract only audio files (mp3) from the YouTube videos.
Download keepVid  for your smartphone from here:
https://keepvid.en.uptodown.com/android

Summary
Reviewer
Review Date
Reviewed Item
Author Rating